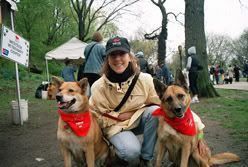 Voter Registration and Information at the
American Cancers Society's DogsWalk Against Cancer
Riverside Park, Manhattan
In partnership with My Dog Votes, DFNY registered new voters and provided information on issues for dog-loving current voters .
The folks from the American Cancer Society were awesome, the weather was great, and the doggies? They were lovin' it.
We met hundreds of new friends and supporters. We don't know about the dogs, but man, we were BEAT by the end of the day!
Our message? Amy Sacks of the NY Daily News said it best:
Get arf the couch and go vote!